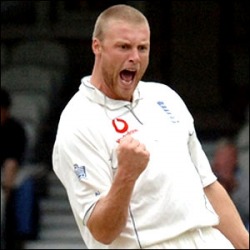 Yesterday Andrew Flintoff's immediate retirement from all forms of cricket was confirmed. The fact that such an announcement has always seemed likely means there is no sense of shock, but the news is still a profound disappointment. That said for some of us hope springs eternal. Already I find some consolation in the thought that, perhaps, a couple of years of ordinary living will sort out the Flintoff knee in a way that no invasive procedure ever could. In my mind's eye he will line up against Australia again in 2013 and the glories of 2005 will be recaptured by a revitalised Flintoff. In the cold light of day I do, of course, realise it is just a dream but Andrew Flintoff is a legendary figure, and legends exist to inspire dreams. But enough of such maudlin reflection. The media is, and will for some time remain, replete with tributes to Flintoff. My purpose is to look back at some of the things said about him while he was still playing.

Firstly by some of his England teammates :-
In 2004 Freddie was already being tipped as the best cricketer in the world. He could take any attack apart, bowl at a fearsome 90 mph and catch pigeons in the slips. But there were those saying that he hadn't yet earned the accolade as he had not yet faced the best in the world, the Aussies. Well, as we know, Fred got his chance in 2005. Now there is no doubt.
Ashley Giles in 2006
Freddie's performances in the Ashes last year were nothing short of phenomenal. That day at Edgbaston where he hit the Australians all over the park, despite injuring his shoulder, showed real character. To follow that up with one of the best overs I have ever seen, proved a real turning point and showed what a fantastic cricketer he has become.
Marcus Trescothick in 2006
Fred has so much presence and self belief. His positive attitude was infectious, particularly for someone like me who was in awe of him. Flintoff, remember, had just had the most amazing summer. He had become a superstar and a national hero on the back of the Ashes 2005, and it is doubtful whether any England cricketer had ever been so popular, even Ian Botham in his pomp. He was unaffected by all the fame. He made a young lad so welcome....
Alastair Cook writing in 2008
Flintoff walks to the wicket with an air of confidence. He is in great form, and clearly does not fear the situation. This is an opportunity for him to thwart Australia yet again. He announces himself with a couple of trademark drives through the offside. The great thing about batting with Flintoff is that the scoreboard is always moving. At the other end you don't have to worry too much about scoring yourself. I am able to lean on my bat and watch a huge array of shots. Flintoff is having no trouble on the benign wicket.
Andrew Strauss, writing in 2006 about batting with Flintoff in the first innings at the Oval in 2005
His physical ability and natural talent have never been in doubt but you need more than this to achieve what Fred has managed to do. His self belief, ambition and, even more importantly, hard work have paid off. The work he has put in shouldn't be underestimated and because of this he deserves all his success, accolades and more to boot.
Lancashire teammate Glen Chapple in 2006
..... then his opponents
The Test series was just a few hours old when I knew that in Andrew Flintoff we were up against someone special. Here was a bloke who played his heart out, who loved wearing the England crest, who wanted to smash every bowler out of the park and clean up every batsman and if need be, all on the same day! And suddenly, deep down, Australians were saying this bloke is a handful! Have we bitten off more than we can chew? Well, the rest is history. We were outplayed by a better team. You can always make excuses but you must never detract from the merit of the other person's victory.
Brett Lee in 2006
Freddie is one of the good guys involved with cricket. He is a player every captain would want in their team. He plays the game in the right spirit and it's plain to see the passion and pride he has every time he walks on the field. His commitment is fantastic. He has the ability to lift his team mates, which is a great gift. He was the reason the Ashes were regained by England in 2005 for the first time in almost 20 years. His "never give up" attitude, no matter what the situation, is something that every cricketer should have, although not many do.
Shane Warne in 2006
With his performance and personality over the last two years Andrew has breathed real life into cricket in England and he is well respected and popular all over the world. I know the people in India are all eagerly waiting to watch him when the England side tours early next year.
Rahul Dravid in 2006
Fast bowling has become more like spin in the way that the bowlers set up the players over a few balls and then capture them with a change. Andrew Flintoff does this beautifully by bowling a few out swingers and then producing an inswinging Yorker. Absolutely brilliant!
Mushtaq Ahmed in 2006
........ and some coaches
I saw nothing impressive as I watched this huge and slightly awkward youngster go through the warm-ups. But once he put his pads on and strode into the nets it was a different situation. The awkwardness was gone, replaced with graceful fluid movements and enormous power. But what impressed me most was his ability to judge the length of the ball and his near perfect technique. Sure he sometimes pre-empted shots and his concentration wasn't all that flash, but the potential was enormous.
Former Australian captain and Lancashire coach Bob Simpson, writing in 2006
There is no question but that the cricketer whom England will be primarily dependent on for several years is Andrew Flintoff. It is no exaggeration to say that the interest he creates will be worth millions of pounds to English cricket. He looks like a hero - and strikes the ball like one.
Keith Fletcher writing before the 2005 Ashes
I say without hesitation that Flintoff's first innings century was the finest innings I saw him play. It was pure class; not just random big hitting, but full of judicious decision making and excellent execution.
Duncan Fletcher, writing in 2007 of Flintoff's century against Australia in 2005
Watching the emergence of Fred into the world's number one all rounder and being able to play a small part in his development as a cricketer has been a real privilege for me.
Former England Bowling Coach Troy Cooley in 2006
....... and the media
... he has become the outstanding all rounder in world cricket, instantly recognisable on and off the cricket field. Only one thing has changed. Instead of wanting a Kit-Kat and Coke for playing for one of his mates, now he might just want a steak and a pint. No airs, no graces, no pretentions.
Former Lancashire and England pace bowler turned Sky commentator Paul Allott in 2006
There is no speed gun at Aigburth but Flintoff is genuinely fast and hostile. Sitting 40 yards away, I instinctively dart my head to one side as Flintoff gives Vince, barely 18, a close encounter with the brutal realities of the championship. If Flintoff hits him, I worry that Vince won't see his 19th birthday next March. Sutton is standing 25 yards back for Flintoff and yet taking the ball at head high and with upturned fingers.
Duncan Hamilton, writing in 2010 on the events of 18 June 2009
Andrew Flintoff looks as if he's stepped out of a cartoon strip. Everything about him suggests a heightened reality. It's not just his size and bulk - 6ft 5 inches, 16 stone, broad as a jumbo - there is the supernatural strength with which he hits the ball, the primeval way he celebrates taking a wicket (arms aloft, crotch pushed out, tongue oscillating) and the nickname.
Journalist Simon Hattenstone in The Guardian in 2005
.......... and those of earlier generations
The highest compliment I can pay to Freddie is to say he is to cricket at the moment what Ian Botham was to cricket throughout the 70's and 80's, creating a buzz of excitement and drawing crowds to the games.
Viv Richards in 2006
There are few people I would pay to watch playing cricket, and fewer still for whom I would happily get out of bed at 3am in Lahore to hand over a trophy in a blazer and tie to. But for Freddie Flintoff, I'll do just about anything.
Ian Botham in 2006
English cricket is devoid of great characters. Aside from Andrew Flintoff.
Fred Trueman writing in 2004
In the vintage Lancashire side in which Neil Fairbrother, Michael Atherton and I played, the one thing we all agreed on was that Freddie was an incredibly talented cricketer. We used to sit and talk about him at the end of the day and it was common ground amongst us that as soon as he discovered and exploited his talent he would become the best in the world. I am extremely pleased that he has justified our faith in him.
Wasim Akram in 2006
......... and some footballers
You look at great all rounders like Ian Botham in the game of cricket and Freddie is up with him. That's one of the biggest compliments you can give the guy because no one thought that Botham could be bettered. Anyone who plays in the style of Botham and can be mentioned in the same breath must be something special.
Former England and Manchester United Captain Bryan Robson in 2006
Andy is one of the nicest blokes I have ever met and it?s no wonder that young kids want to emulate him on the cricket field. He's got the aura of a hero and yet he?s managed to keep his feet firmly on the ground. He is at heart a family man, with a deep respect of what his parents have given him, and that perhaps is his strength.
Former England and Manchester City winger Mike Summerbee in 2006
In every generation an athlete comes around who transcends all of sport. Freddie Flintoff is one of those people.
Former England and Manchester City striker Rodney Marsh in 2006
........ and, most importantly, his fans
Some cricketers can be weighed and measured by statistics, but not Andrew Flintoff. Mere figures tell us nothing worthwhile about his magic or his gift of taking catches or wickets exactly when they are needed. Freddie is always central to every game.
Former Prime Minister turned cricket author John Major in 2006
A massive performer with a gentle heart, capable of getting the best from anyone. A natural entertainer and a really genuine bloke.
Eric Clapton
It's not just that he bowls fast, hits the ball to distant parts, and catches swallows. It is also a matter of attitude and demeanour. He plays hard but he doesn't cheat either his opponents or the crowd. He gets stuck in like he means it but at the end of the day there is a smile on his face.
Veteran broadcaster Michael Parkinson in 2006